The rising nature of business development in Ghana has led to the need to educate running and up and coming businesses what a business registration certificate entails. Check out why it is very necessary to obtain a business registration certificate for your business.
A Business Registration Certificate is a written document issued by the Registrar General's Department as proof of valid business registration. In Ghana, the highest office for issuing a business registration certificate is the Registrar General's Department. Other companies like Bizaccess help business owners register their businesses.
What Is Company Registration Certificate?
According to the laws of the state, all businesses and companies must be registered.  Company Registration Certificate is a licensed document that gives a go-ahead for businesses or companies to run after successfully passing the registration stage. The state issues this certificate after a few weeks of filling a business registration form and other important documents. 
In Ghana, the business or company registration certificate is renewed annually.
Business Certificate In Ghana
A business certificate in Ghana has a specific structure. On the certificate, the nation's coat of arms is one of the key components. Additionally, a statement of confirmation is stated on the business certificate to fully certify the business owner to engage in his or her business. The date of issuance and signature is penned at the lower part of the certificate.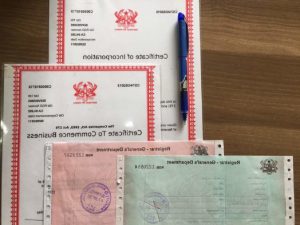 How Do I Register My Business Name In Ghana?
To obtain a business registration certificate, you have to register your business. In Ghana, there are some important notes to take about registering your business name. First of all, the company name must be unique and not used by any company. Also, the name should be devoid of any ethnic and religious undermines and abusive words.
After your business name passes the above criteria, it will be processed.
Business Name Search Ghana
Searching for a suitable and unique name for your business might seem very tough and complicated. Use this website to check out some available names that can be used for business registration in Ghana. Name Search - || Registrar General's Department ||
How Long Does It Take To Get A Business Certificate In Ghana?
Patience as they say moves mountains. Before the outbreak of COVID-19, it took few weeks to months to get a business registration certificate. Owing to some registration details and requirements, it might take quite a long to obtain a business certificate. Moreover, due to the issues of Covid-19, the period is quite extended.
According to research, it takes 20 to 30 days to get a business certificate in Ghana.
READ ALSO: What You Need to Know about Company Registration in Ghana
How Much Does It Cost To Register A Business Name In Ghana?
After going through the toil of finding a unique and befitting name for your business, you are required to pay an amount of ¢50.00. This fee is known as the business name registration fee.
What Are The Documents Required For Company Registration?
Concerning documents required for business registration, the document varies from country to country. Here are the documents required for registering a company in Ghana:
Passport

Voter's Identification Card

Tax Identification Number

Driver's License
Other relevant documents like the ECOWAS Card(Ghana Card) might also be added to the application.
Importance Of Business Registration Certificate
Living peacefully and comfortably in your business life is the dream of many young entrepreneurs. It is important to obtain your business registration certificate to make you legally accepted by the state. Check out some of the importance of obtaining a business registration certificate 
It secures your reputation and the business as a whole.

Business Registration Certificate builds trust among business partners, customers, and suppliers.

It aids in easy branding and marketing. 

Business Registration gives you peace of mind.

Prevent illegalities in the business registration.

A Business Registration Certificate is a requirement for obtaining a loan for your business.

Legal Protection.

Brand credibility.

You can obtain a visa for business purposes when you have a business certificate.

It is the first step to aim at your business structure development.
Per the law, after obtaining a business registration certificate, you can hire workers and pay them. Additionally, you will be given a state identification number for your business that can allow you to pay taxes to the state.
READ ALSO: How Foreign Investors Can Register a Business with the GIPC in 2020.
What Is The Cost Of Business Registration In Ghana?
Registering a business in Ghana is not much of a headache. In the beginning, a processing fee of ¢60.00 is paid either through online means or through bank transactions. Additionally, ¢50.00 is paid for the business registration name and some basic additional costs are accrued. A fee of ¢25.00 is paid annually as a renewal fee for the business registration.
Online Business Registration In Ghana
Due to the rise in modern technology, businesses in Ghana can register their business online. You can make use of the following online business registration portals in Ghana:
Bizaccess - Business Registration | Remote Business Support
Registrar General's Department
Types Of Business Organizations In Ghana
There are a number of types of business registration in Ghana and they include:
Company Limited Shares

Company Limited by Guarantee

Company Unlimited by Shares

Sole Proprietorship 

Incorporated Partnership

External Company
According to the law, these types of business registration in Ghana are bound by strict laws that must be followed. 
What Are The Disadvantages Of Registering A Business?
Although business registration comes with great advantages, there are some minor disadvantages.
How Do I Renew My Ghana Business Registration Certificate?
In Ghana, business registration certificates are renewed annually. Check out the processes to undertake when you want to renew your Ghana Business Certificate.
Pick a renewal form from the Registrar General's department or download the application form at the Registrar General's website.

You will make a payment of ¢25.00 as a renewal fee every year.
Since all your business details have been accumulated in the portal, you wouldn't go through too much stress. Once you complete the filing of the forms, you submit it with the payment to complete the payment.
If you are planning to start up a business, it is important to register the business. Disregarding this process can lead to some legal consequences and some great disadvantages. Registration of business is important as it protects your business and secures you against a third party.
How To Register A Sole Proprietorship Business In Ghana
In recent times, a sole proprietorship is becoming more popular amongst the various forms of business. It will be of great relevance to understanding how a sole proprietorship business in Ghana is registered. 
 Sole proprietorship business registration is very basic and fast. You will require some relevant documents such as an Identification Card and a Tax Identification Number. But before then, you should have completed a  business name search to obtain a very suitable and unique name for your firm.
You can opt for the online means by downloading the registration form from the Registrar General's website. Complete the forms by filing with relevant details and submit them to the registrar general's department. After receiving approval from the registrar general department, you can start your sole-proprietorship business.